Sun Joe SPX3500: The ultimate dirt fighter that tackles the toughest cleaning job!
Yes, that's what people say about the Sun Joe SPX3500 electric pressure washer. This pressure washer made its space in millions of homes across the country for its heavy-duty cleaning power and unquestionable reliability.
You won't find any leading product review portal that can ignore this champion washer. It doesn't matter what kind of surface or how stubborn the dirt you are working on, you will get a revived surface at the end.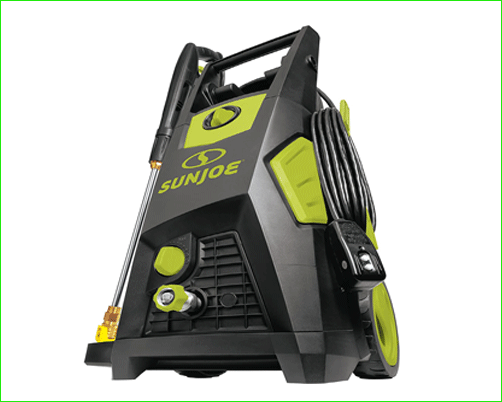 Ranked the best among the leading electric pressure washer models, SPX3500 will offer you superior power, a strong cleaning unit, diverse spray adjustment, and effortless portability. All of these features will be available at a highly affordable price.
Sun Joe SPX3500 cares about you and your family. Thus all the safety features are state-of-the-art and updated. Without making any further ado, let's dig into the review so that you can hit the "purchase" button ASAP.
Sun Joe SPX3500 Reviews
Pressure
The power of pressure is the most essential feature for any pressure washer. As an electric washer, Sun Joe SPX3500 comes with a sheer force of 2300-psi. This pressure rating makes it better than any light-duty washer and puts it into the ranks of medium-duty residential grade gas washers.

You will get the power of a gas washer while paying for a high-end electric washer. This is the best thing about SPX3500 backed by a 2000-watt induction motor. The induction technology saves you on utility bills while producing immense power using only 13-amp of electricity.
Controlling the pressure is like a breeze with this lightweight washer. You can change the output as well as the flow angle to play with the pressure settings. We recommend you doing it until you get your desired settings.
Cleaning Units
The cleaning unit of SPX3500 is packed with power from the 2300-psi pressure. Water will provide a super-powered punch on any grim dirt at a rate of 1.48-GPM. This sheer force of water will easily clean any hard surfaces like driveway, porch, patio, or pool sides.
You can add detergent in the 40.6-oz detergent tank for a better clean-up. Like the pressure, you can adjust the amount of detergent in the water using the adjustable detergent dial. Both foam wash and soap water cleaning are possible with this quiet and cool washer.
In some rare cases, you may find soap and water leakage from the tanks and hose connectors. However, the solution is easy, tighter the joints firmly. All the dripping will disappear in a few seconds. If you still face the issue, the dedicated customer care of Sun Joe is there with a 2-year warranty.
Total Stop System (TSS) is one of the unique features of this east-to-carry washer. If the trigger is behaving inconsistently, the system will shut off the power and pump automatically.
The 35-feet cord length and 2-feet hose length can give you a wide extension for working. But, it is quite possible that any fold or twist in the hose can cause uneven operation of the machine. In that case, the TSS will come into effect.
5-spray tips come with the machine for a diverse array of cleaning. No matter if you are dealing with a delicate deck chair or stain of stubborn grease on the driveway, these tips will give you the exact pressure you need.
Weight
This mostly-pre assembled best pressure washer comes with a weight of 46.6-lbs. It may sound heavy, but you will not have any problem with the large-sized wheels on the back. The rubber-coated wheel supports the smooth and quiet movement of the machine anywhere within the 55-fee radius from the power source.
The solid handle also helps to move the washer in an inclined position. The weight helps to stabilize the machine during any cleaning job. You will get a better flow of water if the pumping unit stays steady during any operation.
Spray Adjustment
Sun Joe 3500 can generate up to 2300-psi pressure through the powerful pump and high-pressure hose. You can use this power according to the cleaning job using the 5-spray tip settings of the nozzle.
The 34-inches spray wand of the Sun Joe pressure washer spx3500 has that nozzle at the tip. It is easy to rotate the nozzle and change the spray adjustment. You can select between 0º, 15º, 25º, 40º, and soap settings.
The 0º will provide the maximum cleaning power with a pencil point jet. This is an excellent option to remove stubborn first from the joints of the slabs of decks, driveways, patios, lawn, and garage floor.
Wider angles are for a delicate and low-pressure job like a car wash, cleaning outdoor furniture, and deck floor. You can use soap settings for any foam wash or simple cleaning.
Care and Handling
We strongly recommend you follow all the care and handling instructions in the Sun Joe SPX3500 manual. However, if those instructions are too complicated for you, we have rounded them up for a better understanding and use.
General Care Instructions
Only use clean water from the supply
Keep all the pets and bystanders away while operating the machine
Wear long pants and protective shoes
Wear goggles and gloves if possible
Do not try to overreach with the wand
Never carry the machine with a cord
Do not carry a plugged-in machine
Do not use water warmer than 104-degree Fahrenheit
To avoid Electrocution
Check the cord before each use
Do not use with a damaged cord
Do not touch the cord with a wet hand
Keep the connections dry and off the ground
Keep the cord away from the nozzle
Do not spray on electrical appliance and wirings
To avoid Risk of Explosion
Do not use any liquid except water
Do not use any additives other than soap
Additional Safety
Do not place anything near the operating nozzle
The spray can cause serious injury if it penetrates the skin
In the case of any skin injury, seek immediate medical care
Do not point the wand towards anyone
Shut off the machine before moving, cleaning, or removing any parts
Keep the children away from this machine at any time
Price
Sun Joe SPX3500 2300-psi will cost you a reasonable price. Typically, the electric washer's price ranges from $75 to $250, with an average of $150. You will find the price always close to the average.
One of the best things that I have already mentioned is you will get almost all the gas pressure washer features in this machine. Keep this in mind, gas washers' price ranges from $200 to $2000. However, you may find some great options within the range of $300 to $500.
FAQ about Pressure Washer Sun Joe SPX3500
Is it safe to use a Pressure Washer?
Yes, pressure washers are absolutely safe cleaning tools as long as you use them with caution and common sense. It is obvious that water with such high pressure can cause serious injury if not used with caution. So try to follow these common rules
Wear goggles and long pants when using a pressure washer
Use a steel-toe shoe or at least any regular tennis shoe to cover your toe
Do not point the washer nozzle at anyone
Try to keep the nozzle down when in use
Don't let anyone come close when working on a vertical surface
Does high pressure mean better cleaning?
Not necessarily. High-pressure is related more to finishing time. The higher the pressure shorter the time you will require to complete the job. The quality of cleaning depends on how you are using the washer and where.
A washer with 3000-psi will take double the time to clean a surface as a 6000-psi washer. However, a high-pressure washer gives a better outcome for removing tough stains than any low-pressure washer.
Delicate cleaning requires both time and detailed work. Therefore, you have to use a low-pressure washer for a longer time. But the outcome can be surprisingly clean if you do it correctly. It's better to rely more on patience and skills rather than sheer power.
Can you wash your car with a Pressure Washer?
Washing a car with a pressure washer sounds intimidating. However, you can do it with caution. Wise angel nozzles and low-pressure settings work best for the body. This setting ensures no chipping of paints or cuts on the paints.
You can increase the pressure a little bit when washing the tire. Medium pressure settings will be perfect for the sedan or smaller SUVs'. Any off-road vehicles will require a high-pressure setting off course.
When you are washing the car, always start from the lowest pressure settings and increase slowly with caution. Any rapid change in pressure can damage the paint or the tire tread. So better go slow to save the fun of quick but effective washing.
Electric Pressure Washer vs. Gas Pressure Washer
Both Gas and Electric washers are great for cleaning jobs. However, gas washers are more power-packed than their electric counterparts. The gas -power is more than adequate to deal with any tough cleaning job.
On the contrary, electric washers are not packed with power, but they are perfect for small-scale detailed cleaning jobs. Before you make your final decision on any of the types, let take a look at the pros and cons of those washers.
Electric Pressure Washer
All you need is an electric outlet and a long cord to take this convenient cleaning machine to any corner of your home.
Pros
Electric washers are clean and eco-friendly. They do not run on gasoline. So, no possibilities of an oil leak and messy stain.
Much affordable than any gas-powered washer in the market. If you have a small home or a little cleaning job, this type will be a perfect choice.
Lightweight electric washers are easy to carry anywhere.
Perfect for any delicate job that requires controlled pressure. Cleaning a car or any outdoor furniture is easy with this washer.
Cons
The extension cord can limit the cleaning reach
Not fit for any heavy-duty cleaning like driveway, patio, and deck
Gas Pressure Washer
They are the mightiest in the pressure washer world. Moreover, you will get more freedom in moving to almost every corner of the home. But along with some of the greatest benefits, this washer has some limitations too.
Pros
Powerful washer for any heavy-duty work
Length of power cord will never restrain you from moving around the house and clean
Offer a better outcome than any high-end electric washer
Cons
Expensive than electric washers. Ideal for a big home or commercial usage
Heavyweight washer and not easy to move like an electric washer
It requires constant refueling that can create a greasy mess on any surface
Sun Joe SPX3500 vs. SPX3000
Joe SPX3000 electric pressure washer is lighter in both weight and power than the SPX3500. The former comes with an 1800-watt motor that generates up to 2030 psi pressure. The force may look significantly lower than the SPX 3500. However, the 1800-watt motor can produce 1.76-GPM water flow from the SPX3000.
SPX3500 is more energy-efficient than its 3000 model counterpart. The former model uses 13-amp electricity to run the 2000-watts motor. In contrast, the later model uses 14.5-amp instead to run a less-powerful motor.
The 3000 Sun Joe 2030 psi washer comes with a 0.9 l onboard removable tank. On the other hand, SPX3500's onboard tank can accommodate 1.2-L of water. A Low GPM rate with a bigger tank makes the 3500 model capable of more extended cleaning than SPX3000.
Joe SPX3000 pressure washer is lighter than SPX3000. You will find it easy to carry the 31-lbs washer to almost anywhere in your home.
However, you may find the SPX3000 a little heavy when it's both detergent tanks that are full. Yes, 3000 models come with two tanks to store different types of detergent simultaneously. Switch between other detergents is easy with SPX3000. This feature is missing in the 3500 model.
Except for these differences, both machines have the same high quality and standards as Sun Joe washers. You will get the TSS, 5-adjustable nozzle settings, and a 30-day money-back guarantee.
Sun Joe SPX3500 vs. SPX4000
Like SPX3000, Sun Joe SPX4000 has an 1800-watt motor that produces 2030-psi pressure. This electric pressure washer generates more pressure than the SPX3500. However, the 1.76-GPM water speed offers faster cleaning than that.
In SPX4000, the onboard removable tank capacity is 1.6-liters, whereas the capacity of 1.2-liters in SPX3500. High capacity and faster water flow will shorten the cleaning time with the 4000 Sun Joe than the 3500 model. None of the models come with a dual detergent tank system.
The Sun Joe SPX4000 is far lighter than almost any other model; its weight is only 27.8-lbs in comparison with the 47.6-lbs of SPX3500. This lightweight machine comes with two pressure settings that make it more versatile than the 3500 model. You can select between 1450 and 2030-psi for different cleaning requirements.
If the weight and cleaning ease is an issue for you, SPX4000 will be a better choice. However, for stability and power, you should pick the 3500. The rest of the features are the same in both models.
Sun Joe SPX3500 vs. SPX3501
At a glance, both SPX 3500 and 3501 look similar. However, there are some surprising differences between these two power washers. The main difference between these two is the motor. SPX3501 runs on an induction brushless motor that has a longer lifespan and better energy efficiency than the 3500. The operation of the 3501 is quieter than any SPX model.
You will get a hose reel to store the hose safely. This feature ensures the safety of the hose and the longer functionality of the machine. You merely have to face any twisted or broken hose in the future with 3501.
The 3501 is slightly heavier than the 3500. That extra 2.5-lbs won't create any issue as long as the rubber-coated wheels are in action. The rest of the features are the same between these two almost-twin models.
How to use a Pressure Washer like a Pro
You can expect the best outcome from the washer only if you can use it correctly. Here are some tips on using your regular washer like a pro-level handyman.
By the way, these tips are recommended by some veteran handyman and professional cleaning services. So you can rely on them with confidence.
Always start cleaning with the widest angle spray. You can always switch to the narrow-angle for detailed cleaning. Otherwise, you may end up damaging the surface with cuts.
It is recommended to go bottom upward while cleaning any vertical surface. Later, rinse the surface in the top downward direction
Use a steel-toe shoe while using a gas-powered washer to prevent any accidental cut on the fingers
Do not use pressure washers while you are on a ladder. You may lose balance and fall due to the strong recoiling effect
Every washer needs regular maintenance and servicing. It is essential for gas-powered washers.
Don't keep the gas inside the tank if you are not using the machine for a long time.
Final Thoughts About Sun Joe SPX3500
In the first look, Sun Joe SPX 3500 electric pressure washer makes a solid impression in anyone's mind. The color scheme, outlook, ergonomic design, easy-to-use front controls boast about the greatness of this powerful washer.
You will feel a sense of ease and enthusiasm while working with such an eco-friendly machine. Without making any mess, it will offer you the complete cleanliness of any surface or driveways, patios, lawn equipment of your home.
You may find the leaking a bit annoying, but there is always a quick fix for it. For any other dissatisfaction, you are covered with a 2-year warranty.
Are you still thinking of waiting for another thought? I am sure you are not. Let's, click the check price button and get this awesome washer for your home.
Read More :
Sun Joe SPX3000 vs SPX3001 Review & Buying Guides
Sun Joe SPX1000 1450 Max PSI 1.45 GPM 11.5-Amp Electric Pressure Washer, Green
Sun joe spx200e 1350 max psi 1.45 GPM 10-amp electric pressure washer, green
Sun Joe SPX4001 2030 PSI 1.76 GPM 14.5 Amp Electric Pressure Washer Reviews
7 Best Sun Joe Pressure Washer Reviews & Buying Guides 2020
Sun Joe SPX4000 vs SPX4001 Electric Pressure Washer Machine [2020]
10 Best Commercial Pressure Washers to Buy in 2020 (Reviews & Buying Guides)