If you're like me, then you love your power washer. There's nothing quite like the feeling of blasting away dirt and grime with a high-powered stream of water.
And if you're looking for a new power washer, I have good news: the Blue Clean 1900 PSI power washer is an excellent option for medium-sized residential cleaning projects. With its powerful jets and rugged construction, this machine can take on any residential cleaning job.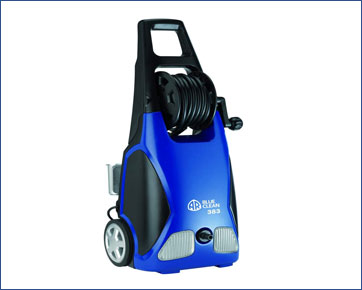 Plus, it's easy to use so that anyone can get great results. So if you're looking for a new way to clean your home or property, check out the Blue Clean 1900 PSI power washer!
Blue Clean Power Washer 1900 PSI Reviews
Why Should You Have An AR Blueclean 383
1.5 HP Universal Motor with Tri-Axial Pump providing 1900 PSI Pressure
Generate 1.5 GPM spraying capacity
14-oz blue clean power washer soap dispenser
20-feet high pressure-resistant hose
Quick-Coupler ensuring the easy installation of the adjustable spray lance and pressure hose
The 35-feet power cord comes with an Auto-Reset GFCI module
Auto shut-off mechanism (TSS) to ensure the longevity of the power washer
2-Years residential and 1-year commercial warranty
AR Blueclean 383 Feature Details
The Blue Clean Power Washer 1900 PSI is a powerful machine that can deliver a high cleaning performance. It is easy to set up and use and comes with several different attachments that can be used for different cleaning tasks.
The machine is also very lightweight and portable, making it easy to move around and store. The power washer comes with a two-year warranty, backed by a money-back satisfaction guarantee.
Overall, the Blue Clean Power Washer 1900 PSI is an excellent choice for those needing a high-quality power washer that can handle various cleaning tasks.
Pressure rating
The AR Blue Clean AR383 Electric Pressure Washer is a tried and true model that delivers 1,900 PSI of maximum pressure.
It can quickly blast away dirt, mold, moss, and grime to reveal a clean look. With care, you can use it on most concrete, stone, and stucco surfaces. In minutes, it can also clean cars, trucks, motorcycles, RVs, ATVs, and bicycles.
Motor power
I was pleasantly surprised with the power and cleaning efficiency of the AR Blue Clean AR383 Electric Pressure Washer.
Despite its low price, this unit boasts a powerful motor and ample pumping capacity, making it an excellent choice for cleaning various surfaces around the home. The 1.5 HP Universal Motor comes with a Tri-Axial Pump providing a 1.5 GPM pumping capacity.
The 120V 60Hz power rating makes it a universal machine to work perfectly in any US power outlet.
I recommend this best pressure washer to anyone needing an affordable yet powerful home cleaning option.
Spraying features
The  Blue Clean pressure washer 383 also comes with a spray gun designed with Quick-Coupler fittings, making it easy to install and remove the HP hose and lances.
In addition, it includes 2 high-pressure QC lances: an adjustable spray lance and a Turbo lance for diverse spraying angles and widths.
Simply affix the adjustable spray lance, and you'll have high-pressure cleaning. Simply rotating the nozzle head, you can switch the HP spray pattern from a broad fan to a concentrated "pencil-point" HP spray or anywhere between 0 to 60 degrees.
Fasten the Turbo lance on for the heavy lifting. With its pulsating, rotating HP spray, the Turbo lance can boost cleaning efficiency by as much as 50 percent.
The 14 oz. The detergent bottle allows easy application of any washing chemicals of your preference.
Portability and maneuverability
The 20' high-pressure hose and storage hose reel are also included, as well as the 35' power cord featuring the Auto-Reset GFCI module.
You can easily move the machine across the home and outdoor areas. Thanks to the 28-lb lightweight design and plastic wheels that make the job easy.
Noise rating
Among the pressure washers we tested, the AR Blue Clean AR383 was the third quietest.
We measured a noise level of 82 dB, which is significantly lower than the 87.4 dB average of our test group.
Safety features and Warranty
Finally, the Total Stop System (TSS) – which automatically shuts off the power washer when the trigger is not engaged – prolongs the pump's life.
The Blue Clean 1900 PSI power washer comes with a 1 year "bumper-to-bumper" warranty and best-in-class customer service.
And, of course, you will love the Minnesota-based customer care service that responds more promptly than many other big brands.
Pros
Works perfectly on decks, siding, and fences
You can clean patio furniture, garbage cans, pet cages, lawnmowers, and outdoor equipment
US-based customer care service
Total Stop System (TSS) shutoff the washer when not in use
It comes with a trigger gun, lance, and hose reel holder
CSA International certified for safety
Cons
The plastic Quick-Coupler impact the durability and efficiency of the washer
Lighter gauge hose can't endure the pressure for long
Internal leakage reduces the pressure in some instances
Blue Clean Power Washer Troubleshooting
If you have a blue clean power washer that is giving you trouble, you can do a few things to troubleshoot the problem.
First, check the oil level in the pump. If the oil level is low, add oil until it reaches the full line on the dipstick.
Next, check the spark plug to ensure it is clean and in good condition. If the spark plug is dirty or damaged, replace it.
Finally, check the engine for any leaks. If you find any leaks, tighten the bolts and screws on the engine. If your blue-clean power washer is still not working properly after troubleshooting, you may need to take it to a repair shop.
Conclusion
Blue Clean power washer 1900 psi is a great machine for cleaning and grooming. It has different nozzles to suit your needs and detergent tanks that make the job easier.
This one is worth considering if you're looking for a powerful machine to clean your car or patio. We highly recommend it!
Read More: