Our team independently researched many pressure washer machines and came up with the best seven electric pressure washer machines. Team members worked thousands of hours researching online, testing the products, and collecting user reviews.
If you ever use a pressure washer, you'll admit that this a tool you can't live without it. Pressure washers are handy in cleaning large areas of all kinds of hard outdoor surfaces. There are three kinds of pressure washers. In this article, we'll discuss the best electric pressure washer machines in the market.
Before diving into the main topic, let's find out the difference between electric and gas pressure washer machines. We will also provide you with some technical knowledge on the terms used for pressure washers and some buying tips so that you can purchase the best electric pressure washer that fits your needs.

Best Pressure washer machine for 2023
Let's start our review for top electric pressure washers for 2022. We also have added a buying guide at the end of this article. Remember to read that before you finally make a purchase.
1. Sun Joe SPX3000 2030 Max PSI 1.76 GPM 14.5-amp electric High-Pressure washer.
You can use this Sun Joe SPX3000-SJB to tackle a wide range of cleaning tasks. You can use Sun Joe's features to clean dirt, dust, debris, and gunk from houses, private cars, large trucks, small to medium boats, lawn equipment, and more.
The Sun Joe pressure washer delivers incredible power, optimum performance, and versatility for various cleaning tasks. Mostly, this machine produces what it promises for the most of its part.

First, we want to talk about power. This machine can produce about 2030 PSI from its motor of 1800-Watt or 14.5-amp. This pressure washer can generate up to 1.76 GPM of water flow for the highest pressure cleaning power to wash 'undesirable materials' from several surfaces.
As for its performance, the water pressure is very much consistent. The Sun Joe SPX3000-SJB pressure washer delivers constant water pressure even after using the machine for a while. In comparison, many other pressure washers will lose pressure after a more extended period.
Another common yet desirable trait of the Sun Joe pressure washer is the detergent tank system. The machine comes with not one but two detergent tanks for convenient use.
Does it have shortcomings? Yes, it would be best if you kept a constant and firm grip on the handle so that the water keeps running. However, Strong people would not mind this as a problem.
Sun Joe SPX300 has more than twenty-seven thousand reviews in online retailer shops, and most of them are positive reviews. That tells a lot about this device.
Best Features
The maximum pressure rating of 2030 PSI
Water flow capacity of 1.76 GPM
5 amp (1800Watt) electric motor
Weight 31 pound
Duel detergent Tank
Safety lock switch
Accessories
What we liked about this machine
It has not one but two detergent tanks.
It's the constant water pressure.
It has an incredible 2030 PSI powered by the 1800-Watt or 14.5-amp motor.
Things we did not like
The user manual is complicated, but you can set up the machine without not much trouble.
2. Sun Joe SPX3001 2030 PSI 1.76 GPM 14.5 AMP Electric Pressure Washer with Hose Reel, Green
You can face trouble seeing the exact differences between the Sun Joe SPX3001 r with the SPX3000 Electric Pressure washer because both look almost the same. So, do not get confused; they are separate models. To make you more confused, let us tell you one more thing. Those two models also have similar feature sets. Let us tell the difference then.
The SPX3001 electric pressure washer comes with a 40.6-foot (1.2-liter) detergent tank. Also, the SPX3001 has a built-in hose reel, but SPX3000 doesn't have that.

The SPX3001 can generate water with 2,030 PSI pressure and a 1.76 GMP flow. This device has a 14.5 Amp/1800-watt motor, which helps to create such powerful water pressure.
This high-pressure washer machine is very efficient in cleaning gunk off of garage and cars. SPX3001 can even vanish tough-to-remove stains from walls. Even if you do not know how to use a pressure washer machine, you won't face much trouble using it as it is effortless to operate.
This machine got more than six thousand reviews on the online marketplace, and most of them are positive reviews. This device has some shortcomings, and we think you should know that also. It has a short handle, which can be a problem sometimes. This machine is not the best choice if you are trying to shoot high-pressure water from a distance. But SPX3001 is still an acceptable option in cleaning surfaces at a short-range.
Best Features
The maximum pressure rating of 2030 PSI
Water flow capacity of 1.76 GPM
5 amp (1800Watt) electric motor
Weight 32 pound
Hose Reel
6-fluid ounce detergent tank
Accessories
What we liked about this device
2030 PSI water pressure is more than enough for cleaning tough stains
Smart total Stop System (TSS) automatically stops the motor if the machine is not in use.
An onboard detergent tank confirms that you don't have to carry a bucket while cleaning.
It comes with different nozzle tips from the start.
Things we did not like
Short handle, but you can solve this issue by moving closer to the surface.
3. Greenworks 2000 PSI 13 Amp 1.2 GPM Pressure Washer with Hose Reel GPW2002
Greenworks 2000 psi pressure washer is a world-class pressure washer. We know electric motors power up electric power washers. If we compare it to traditional pressure washers, the Greenworks 2000 PSI 1.2 GPM offers more than extensive coverage. This machine is capable of handling a vast area in a few short minutes. This pressure washer boosts machine output. This machine generates high pressure, and with this, it can clean furniture, driveways, vehicles, and many other items.
Greenworks has been producing high-quality pressure washers for years. Utility tools built by them are both durable and efficient. Greenworks 2000 PSI has a compact design, and that makes this washer special. The unit is smaller than many other pressure washers and requires minimal pressure, and this is one reason why most people love this pressure washer.

The Greenworks pressure washers generate 1.2 GPM of water flow like other washers from this brand. Using the perfect amount of water pressure, you can clean almost anything and everything in your home. And the engine is durable.
Pressure washers from Greenworks have a 2 to 3 years warranty. However, the 2000 psi pressure washers come with four years limited warranty.
Best Features
The maximum pressure rating of 2000 PSI
Water flow capacity of 1.2 GPM
13 amp electric motor
37-pound weight
Onboard hose reel
Duel soap tank
What we liked
It can clean hard-to-access places with a 25 ft pressure hose and 35 ft power cord.
Heavy-duty 13 MP motor tackles different cleaning tasks.
It is a multi-directional cleaning operation. You can use this washer in both vertical and horizontal positions.
Its dual built-in soap tank.
Things we did not like
The unit is not so powerful. Hence the washer is not suitable for heavy-duty tasks.
The washer can easily tip as it comes in a vertical design.
4. AR ANNOVI REVERBERI Blue Clean, AR383 1,900 PSI Electric Pressure Washer.
The Reverberi AR383 has 1900 PSI enough to wash out dirt and muck on surfaces. We also should consider the measurement of gallons per minute (GPM) before choosing a pressure washer. The AR383 produces 1.5 GPM, and the amount is just right for a machine of its category.
Adding both, we get the cleaning units or CU for AR383, and that is 2850 CU.
On this pressure washer, you'll get two spray nozzles with different functions. One is an adjustable spray nozzle, and you can adjust from pencil-like to wider spray using this nozzle.

The second one is the turbo nozzle. And that can spray broader spaces at a speed of 3 times as the standard nozzle can give. REVERBERI AR383 also has a soap bottle attach to the wand. We found the feature of this washer helpful for users.
Best Features
The maximum pressure rating of 1900 PSI
13 amp electric motor
Weight 27 pound
Onboard storage for accessory
Total Stop System (TTS)
Adjustable spray wand and turbo wand
What We Liked
Quickly cleans decks, patios, siding, driveways, outdoor furniture, cars, trucks, and more.
This washer machine is environment-friendly. Conserves water by using 80% less water with 40% more power than an average garden hose
Easy to assemble
Professional style pressure washer gun
Durable plastic wheels
Things we did not like
It comes with a rubber hose, which is not durable. Nonetheless, the rubber hose can endure up to 2000 PSI.
Only one year warranty is not good enough for an electric pressure washer machine.
5. Karcher K1700 Electric Power Pressure Washer 1700 PSI TruPressure, 3-Year Warranty.
Karcher is a lesser-known brand of power tools, and many of you may hear the name for the first time. But we can assure you that the brand offers a decent pressure washer.
The Karcher K 1700 is one of the cheapest electric pressure washers out there, but you will get a 3-year warranty with it. Besides, this machine's build quality is also quite good, and you can expect it to last for a long time easily. The washer has a 14 amp electric motor, which is also quite efficient. The washer offers a water pressure rating of up to 1700 PSI that depends on your current settings.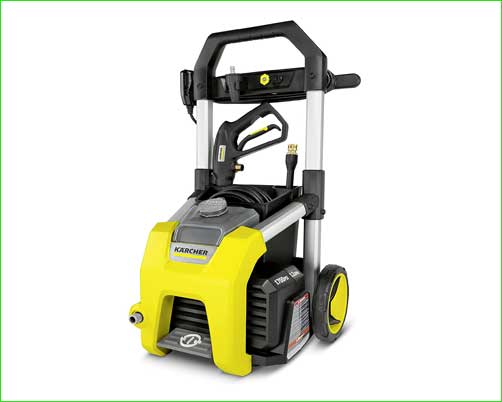 Karcher has a flow capacity of up to 1.2 GPM, and this number is quite decent for the price. You can change the water flow using the included turbo nozzle that is always great to have. Most importantly, all of this stuff weighs just 20 pounds, along with a height of 12 inches.
Best Features
The maximum pressure rating of 1700 PSI
14 amp electric motor
Weight 20 pound
On-off foot switch
Extra storage
Removable detergent tank
12 inches tall
Easy to install and set up
15-degree all-purpose nozzle
What we liked
The pressure washer has a convenient on/off footswitch
K1700 contains a large removable Bin for hassle-free storage of accessories
5-minute setup and no tool is needed
20 ft high-pressure hose
Three years warranty
Things we did not like
The detergent tank is not so large.
Three years warranty contains some shipping and other charges.
6. Westinghouse Outdoor Power Equipment Electric Pressure Washer 1500 MAX PSI 1.5 GPM.
The Westinghouse ePX2000 electric pressure washer is a light-duty machine, and it provides its users with an all-around versatile cleaning experience. The washer is an expert in spot cleaning of hard, paintless surfaces and can reach far-away areas.
This washer from Westinghouse is also efficient in the cleaning of painted and unstable surfaces.
A 10 amp motor powers this washer machine, and it can pressure up to 1500 PSI. We have done maths for better understanding, and this pressure is approximately 25 times more than an average garden hose. The water flow measures up to 1.5 GPM. Thus cleaning unit scale, this electric washer has a cleaning power of 2250 Cleaning Units.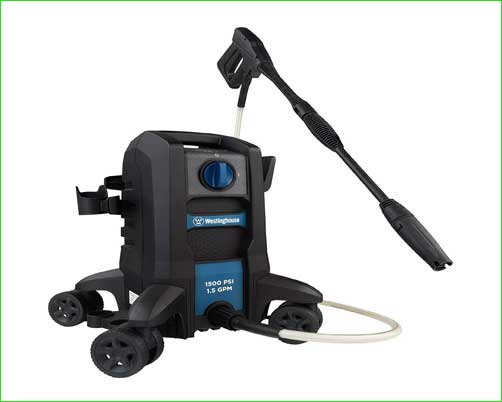 Like any other pressure washer, this electric pressure washer's motor has an ON/OFF switch for convenient use. The unit is ready-to-use, thanks to the included 35 ft GFCI cord.
The machine comes with a portable design and dimensions of D10.1 x W10.5 x H14. One of the core strengths of this washer is mobility. The handle adds the convenience of transporting the machine. Manufacturers designed the handle that way it prevents itself from falling apart.
Best Features
The maximum pressure rating of 1500 PSI
Flow 1.5GPM
10 amp electric motor
Weight 15 pound
Soap tank
15 ft hose length
What we liked
It is a super compact and lightweight pressure washer.
The pump automatically stops if the trigger is not engaged to conserve energy.
Things we did not like
Running in hot conditions for an extended period can harm the motor.
7. Stanley SHP2150 Electric Pressure Washer with Spray Gun, 25′ Hose, Max PSI 2150, 1.4 GPM.
If you're looking for a new electric pressure washer, the most important thing you check out is the brand. And when you choose Stanley Tools, you have chosen one of the best brands in the market.
The Stanley SHP2150 power washer generates 2150 PSI at 1.4 GPM. This power gives this electric washer a total cleaning power(CU) of 3010. That is a decent number for a household pressure washer.
This electric pressure washer will meet nearly all of your needs for cleaning. The device comes with a 13amp electric motor, and manufacturers placed that in a beautifully designed and good-looking housing.

Let's consider the portability. And here, this washer has it in spades. This machine has large rear wheels, but this electric washer comes with a 25-foot high-pressure hose. Add a 35-foot long electrical cord that. That means you will have a 60 ft working range.
Like many other pressure washers, this one also comes with four quick-connect nozzles. You may know these quick connect nozzles perform different jobs. Along with these four quick nozzles, this electric pressure washer also comes with a foam cannon. This snow foam cannon soap allows you to apply soap suds with a thick coating for deep cleaning.
Best Features
The maximum pressure rating of 2150 PSI
Flow 1.4GPM
13 amp electric motor
Weight 26 pound
35 ft power cord and 25 ft hose
Zinc steel spray wand
What we liked
You can store portable and compact designs in any place.
This machine supports a standard-sized garden hose. That means there is no need to buy additional connectors.
Stanley Tools comes with a maintenance kit with this pressure washer.
Things we did not like
There is no pressure controlling system other than changing the nozzle. But you should not worry about that as a medium-duty tool can not harm your surface
If you press and depress the trigger in a quick time, the machine will make noises as if it producing pressure, but it's not.
Gas Vs. Electric Pressure Washer, which is the best?
That must be the first question that comes into mind before purchasing a pressure washer. If you are buying for the first time, then you will get confused about choosing the type. Let us help you by telling you every pros and cons of electric and gas pressure washer machines.
Pros of Electric Pressure washers
Electric power washers are quiet yet powerful. Some electric power washers are up to 2000 PSI, which is enough power for household work.
Suitable for cleaning small items such as a vehicle, backyard grill, patio, pool area, and bikes.
Many pressure washers have attachments to make them more powerful.
Pressure washers are shallow maintenance machines.
No need to purchase gas and oil.
Electric power washers are light.
Electric pressure washers are cheap.
Cons of electric power washers
Not as powerful as gas pressure washers.
Electric pressure washers do not last very long. You can not expect to use one electric pressure washer for ten years.
The power cord will limit where you can take your pressure washer.
Pros of Gas power washers
You can go anywhere with Gas power washers.
It is a heavy-duty cleaning machine.
You need not worry about the power cord. You can use it anywhere.
Cons of Gas power washers
It makes lots of noise.
Typically we favorably weigh Gas power washers.
You need to purchase fuel.
How to choose an electric pressure washer machine?
1. Water Pressure (PSI)
PSI refers to how much force the pressure washer provides. That is the most critical factor for the pressure washer. And remember that more pressure confirms more cleaning power. PSI means pounds per square inch.
Mid-duty pressure washers are available from 1,300 to 1,800 PSI. They best suit small household jobs like cleaning the shutters, washing your lawn furniture, cleaning cars, etc.
Then comes Heavy-duty pressure washers range from 2,000 to 3,000 PSI. These pressure washers are suitable for garages, driveways, removing tough stains, and cleaning house sides.
Lastly comes professional-grade pressure washers with 3000+ PSI. These pressure washers are best for industrial use. You do not need those to clean your house.
2.Gallons Per Minute (GPM)
GPM is the most crucial factor after PSI. This factor tells the quality of water used by the pressure washer in one minute. Average electric pressure washers come in the range of 1 to 2GPM. The higher the GPM levels, the faster and effective cleaning you will get.
3.Motor
The induction motor and universal motors are for electric pressure washers. We suggest you choose an induction motor over a universal motor. Because induction motors make no noise, and they are rugged, durable, and last long.
4. Motor Power
Motor Power is a crucial factor in creating water pressure. That's why this is another essential factor. For electric pressure washers, the unit that indicates motor power is amps. You will find electric pressure washers with 13 amps or 15 amps.
5. Nozzle
Nozzles control the direction and intensity of water. You will find two types of nozzles– a single adjustable one or a set of interchangeable nozzles.
Adjustable nozzles are more reliable and convenient because you will have to twist them to change the spray's width and pattern. But if you get interchangeable nozzles, you will have to adjust the spray pattern by replacing the nozzles.
Before purchasing the pressure washer, look for the spray nozzle. If there is none, you will have to buy one.
6. Hose
The length of the hose is critical because it provides you the working area. 20 ft hose is always better than a 10 ft hose. You should also look for the length of the power cord. If the cable is too short, it will be tough for you to work with that pressure washer.
7.Warranty
Electric devices can face any kind of issue at any time. No brand can tell all of their devices are perfect. So, the more extended the warranty, the better for you.
Conclusion
Electric pressure washers are a handy tool to have in your house. But with lots of options in the market, purchasing a new one can be confusing for anyone. We hope this list of the best seven electric washer machines 2021 will help you find the best pressure washer.