Which types of strong power washers do I need?
A power washer means Pressure washing or power washing for the use of high-pressure water spray to remove loose paint, mold, grime, dust, mud, chewing gum, and dirt from surfaces and objects such as buildings, vehicles, and concrete surfaces. To get a great service from a power washer it needs to be a great and strong power washer. But how to make sure it is a strong power washer? Or how do you know which one is a strong power washer?
To determine the cleaning power of the best pressure washer, you need to multiply the PSI x GPM. The resulting number of it will help you compare models so you can choose one that will be up to the job. PSI: Pounds per square inch measures the pressure or cleaning force, of water created by the pressure washer. To do so you need to know the amount of Electricity a Power Washer Uses. An electric power washer produces enough pressure for most home cleaning jobs. Generally, Electric power washers supply an utmost of 2,100 pounds per square inch (psi), compared to as much as 5,000 per square inch psi for a gas-powered model. And by doing so, you will know which one is a strong power washer for you and which one is not.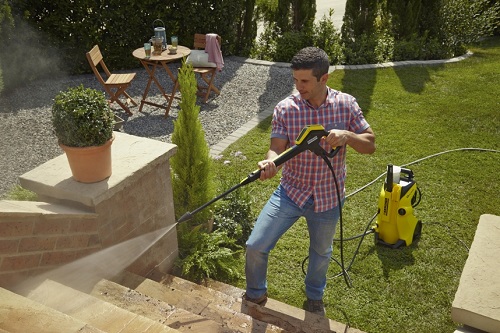 How much you need to buy a pressure washer machine?
There are many varieties of pressure washing machines. But you need to make sure to purchase the right one. It depends on its quality. And after quality comes to its price. There are many Electric washers that have a range of 1,300 to 1,400 psi and are best for washing cars, grills and garage floors. They can cost around $90 to $200. The price depends on the pressure you require. They are quiet and portable so you can quickly clean your driveways and decks. So, you need to make sure before purchasing a pressure washing machine.
Important terms to check a Pressure washer machine
There are some terms and features that need to know when you want to purchase a Pressure washer machine:
If anyone wants to purchase a pressure washer machine, they should read the product reviews and other details carefully. Here, we include some information that will help you to understand the review better. A pressure washer cleaner pumps water,  sore it throughout a nozzle to the dirty surface for cleaning purpose. It works better than a garden hose for cleaning because it better forces dirt and grime off and away from surfaces.
Gallons per minute (GPM): This is the flow rate. 1 – 5 GPM is the most common. More flow equals less time cleaning a certain area. Professionals buy high GPM machines so they can complete more jobs per day.
Pounds per square inch (PSI): This is the pressure. 1000 – 3500 PSI is most common. It describes the pushing force, although the actual force on the surface depends on the nozzle and how far you hold it from the surface.
Cleaning power (CP): Cleaning power (or sometimes called cleaning units) is GPM x PSI. It is a common term to describe the overall cleaning power of a power washer. You can think of it as the amount
Five Benefits of Pressure Washer Machine:
The essential for buying a power washer is for your need, use, and demand only.  Here are the top 5 reasons to buy the best power washer – the essential outdoor cleaning tool:
Save Time:
The first reason for buying the best power washer is that it saves your valuable time.
Next time you're in the driveway cleaning your car with a pressure washer feel good because you're saving 5x the water and able to clean it 5x faster. In addition to that, you won't have to bend over to clean the low spot – just point and shoot with the pressure gun.
Another example of why pressure cleaning is efficient is because you can use attachments like a surface cleaner to quickly clean large flat areas like a tennis court or your driveway. Because of mobile contract pressure cleaners, we can complete washing cloth quickly and for this reason, we can complete more jobs per day.
Save Money:
A pressure cleaner helps you to save money in 3 ways: You use less water so your water bill is less. It needs fewer gallons of water per minute than a garden hose and also completes the job faster. Buying a pressure cleaner is only $100 – $400 depending on the type you buy. Keeping surfaces clean increases their life. If you regularly clean your deck, driveway, grill and other areas of your house those surfaces will stay healthy longer.
Surfaces Experience a More Thorough Clean:
When it comes to cleaning surfaces there's no substitute for high-pressure water. Professional industry organizations that certify contractors recommend high pressure hot soapy water to clean the toughest surfaces because it works, and works fast. You could spend hours and hours chipping away at caked-on mud, grease, and grime or you could use a hot water pressure washer with the proper detergent like the best pressure washing services providers.
Increase Your Home's Value and Curb Appeal:
Pressure cleaning your house siding, driveway, patio, front steps, sidewalks and garage door will increase your home's value by up to $15,000. And if you're planning to sell anytime soon it will get more interested buyers to come in and have a look.
Chores Become Fun:
With your new toy, cleaning outdoor surfaces will be fun – you on the dirty surface. Whether it's concrete, wood, plastic or metal it doesn't stand a chance… Have you seen what you can do with a power washer? Just take a look at that picture of the half cleaned deck. Amazing. And power washing is effortless – you just point the wand and hold down the trigger.                                                                                                                                                                                              Read More: The best advantages of an
Check Out Electric Pressure Washer vs Gas