Electric Pressure Washer: The maintenance tips for the pressure washer illustrated here will ensure your equipment running at its best.
The needs for maintenance of the pressure washer machine vary from one pressure washer to another. Here gasoline-powered pressure washer needs more maintenance and care than an electric pressure washer needs. Alternatively, your little prudence and care a bit can maintain the good health of your best electric pressure washer. The maintenance basically includes simply the pressure washer to be running. Notice carefully the owner's user manual for a maintenance schedule. Here you will find some detailed steps to keep your machine in good and safe condition.
Caution electric pressure washer
Be careful of operating the electric pressure washer. Never operate a pressure washer indoors and even in a confined and narrow area where there is no proper ventilation. When you are keeping running a pressure washer, make sure that the electric power connection is dry enough and off the ground. If your hand gets wet, you must not touch the power plug. Also, check that if there is any leakage in the power cord.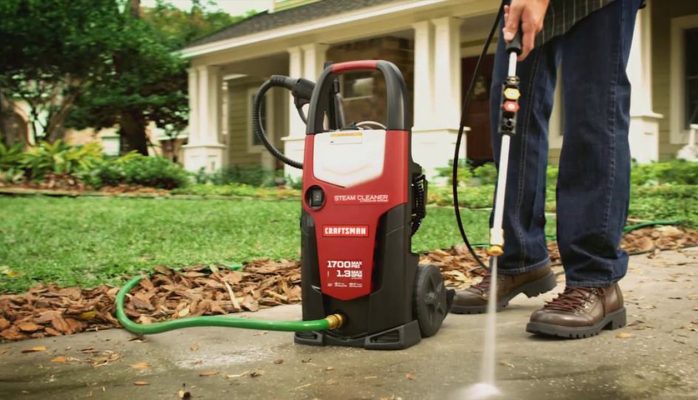 If you want to replace any damaged component, find the approved replacement parts.
What You Should Consider BEFORE Using a Pressure Washer
Before starting pressure washing:
In the case of a gasoline-powered pressure washer, make sure that the oil or fuel level is at the optimal level. It should never be overfilled.
Inspect the water inlet screen. It is located where the garden hose is attached. If there is any dirty screen, wash it away with clean water. Consider a replacement where it is damaged.
Check your spray gun, and extension, and spray tip. You need to make sure that the connections are well secured, even if it is connected to the extreme-pressure hose.
Make sure that the inline screen that is equipped with the wand extension is not clogged. Clean it with water or replace it if it is already a damaged one.
Check the spray gun trigger or trigger lock whether it is okay or not working well. Make some free trigger shots. Replace it with a new one unless it works properly.
Investigate the high-pressure hose if there is any cut, leak, bulges, or any kind of defect. If it is necessary to replace the damaged hose couplings, for a replacement, go through the manufacturers' instructions in the user manual provided.
Wash and clean the detergent siphoning pipe when it is clogged. Check that the washer's detergent filtering system is working accurately.
Flush out your garden hose connected to the equipment.
If the machine has a muffler and sparks arrestor, examine them.
What You Should Consider AFTER Using a Pressure Washer
After finishing pressure washing:
Once you have completed your washing and cleaning job, now it is important to store your machine accordingly.
At first, clean any clogs in the spray tip or the nozzle with water.
Then, you should rinse the detergent off the pressure washer. Put off the detergent siphoning pipe and detach the detergent supply. Now set your spray to comparatively lower water pressure. Water through the full structure for a couple of minutes until it gets cleaned well.
Get the pressure washer to come down in generating pressure. Then, switch off the machine to stop the water supply. As you are using an electric pressure washer, do not forget to unplug it from the electrical connection. There might be a little amount of water in the spray tube. Hold the spray gun in the open air and press your trigger as long as the water flow stops.
Carefully use the trigger lock to let the equipment cool down.
Disconnect every part of the equipment, like a garden hose, an extension, a spray gun, and a high-pressure hose. Get them drained of water.
Disconnect if it has any extra water supply, for example, a pump.
Wash and clean any dirt or debris off if it exists till now.
Notice that if you have cleaned any dirt from the cooling vent.
How to Keep the Engine in Good Health
Proper maintaining the pressure washer's engine will benefit you in running efficiently and lasting longer. The user manual that came with the machine includes detailed maintenance procedures that tell you what you need to do. To follow these procedures, unplug the wire from the spark plug to fix it where it cannot reach the plug. Try to keep your machine in a well-ventilated but covered area.
Regularly check the spark plug. Clean the surroundings of the engine to make sure that any debris cannot fall into the engine power generation chamber. Check that if there are any cracks or the electrodes are burned or pitted. Yes, if you find any, replace it with a new one and reinstall the plug.
Inspect the air filter regularly. Replace it at a regular interval if needed. If it is a reusable foam filter, if necessary, change it with a paper filter.
Keep the engine unplug when you are not using it and reconnect the spark plug wire when you will make the next use of it.
How to Store Pressure Washer for a Long Time
It is uneven that you use your pressure washer all year-round. You may need to store your pressure washer for a longer period, like more than a month, particularly in winter. Here notice some storage procedures:
Continue a regular maintenance check you would do after every use so that you can get your equipment ready for the next season or next project.
Choose a dry place to store your pressure washer. Avoid freezing temperatures or extreme weather. Store it away from heat sources.
For long-time storage, it is good to use an antifreeze pump lubricant. The lubricant protects the pressure washer from freezing and prevents further damage from mineral deposits. It is good to lubricate the connection of hose, and extension, and spray gun also.
Cover the best pressure washer properly so that it does not get in moisture or rainwater.
Unlike electric pressure washers, it is important to know more about the use and maintenance of gas pressure washers, fuel stabilizers, and fuel consumption.
Read more:
10 Secrets You Should Know Before Reading an Electric Pressure Washer Review
Why Should You Buy an Electric Pressure Washer?
Check Out Electric Pressure Washer vs Gas
7 Best Sun Joe Pressure Washer Reviews & Buying Guides
5 Best Commercial Pressure Washers to Buy in 2020 (Reviews & Buying Guides)
Ryobi Pressure Washer Reviews |1600 psi, 2000 psi to 2800 psi, 3100 psi